Join us for a delightful, interactive living history experience and take part in the unique history of New England.
History Alive in Hillsborough, NH will hold its third annual weekend event on Saturday and Sunday, August 21st and 22nd in the Hillsborough Historic District and Jones Road.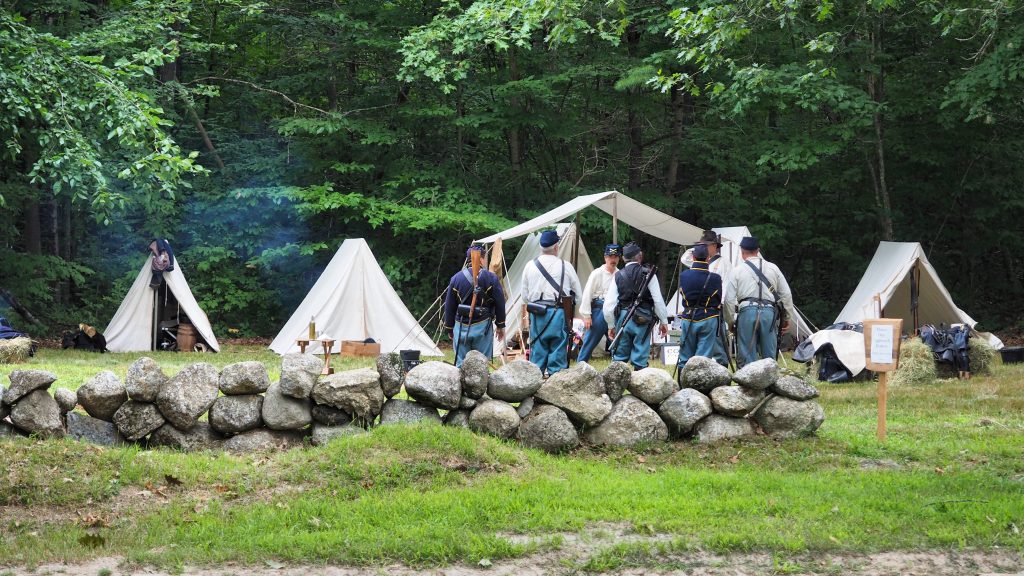 At the Jones Road site, next to one of the double stone arch bridges for which our town is famous, we will be having reenactments with regiments from four wars; The French and Indian War, War of 1812, Revolutionary War, Civil war. Re-enactors will be coming from several states and this year a regiment from Canada will be joining us.
In addition to the battles, we will have gold panning for kids, and on Saturday evening we will have a special dance for all ages- trying out all the kinds of dances that were commonly enjoyed in the 1700's-1800's.
At the Historic Hillsborough Center site, we will continue to share the regular life of the colonial village of centuries past. However, this year, since it will be one year before the 250th celebration of the town of Hillsborough, we will have a special focus on who was already living here when the settlers arrived. Come learn from local Abenakis about the meanings of names of our river, mountains, and lakes, join us in erecting a wigwam, listen to songs, stories, and play games.
While you are in Hillsboro, venture on a fantastic trip throughout the town and discover the historic villages, the Hillsborough Heritage Museum, including the Manahan-Phelps-McCulloch Photo Collection and the DAR Collection. Take a tour of the Franklin Pierce Homestead State Historic Park and tour the cemetery where President Pierce's parents are buried on 2nd NH Turnpike. Enjoy scenic drives; take a horse-drawn wagon ride, or a self-guided stroll around the Old Historic Center. Take a scenic tour of the National Landmark Engineering award-winning stone arch bridges that make Hillsboro a historic treasure.