Vermont Jazz Center Sextet
Rob Freeberg, trumpet, moved to Vermont after 30 years as Director of Bands at New Rochelle High School, New York. He also directed a professional big band, a community jazz band and the Iona College Pep Band, and performed as a free-lance trumpeter in the metropolitan NY area. Rob currently directs VJC's Big Band, serves on its Board of Directors and has taught in its Summer Jazz Workshop. He also performs with the Windham Philharmonic, directs the Jazz Workshop and coaches chamber ensembles at Brattleboro Union HS, and has taught classes at Bellows Falls Union HS and the Putney School.
Bill Ballard, alto sax, fell in love with jazz after seeing Louis Armstrong & His All-Stars while in 3d grade. Bill's experience ranges from the Army Band at Ft. Bliss, Texas, to soul bands, to numerous bebop ensembles and jazz arrangements. He has worked as a piano technician for 50 years, maintaining and tuning many fine and historic instruments in the Brattleboro area.
Ron Kelley, tenor sax, toured with the Bread and Puppet Theater as a young adult and led a New Orleans style jazz band in New York City. He was a music teacher at Leland and Gray Union High School from 1994–2017 where he taught middle school band, vocal music, samba band, and JV Jazz Band. He was on the faculty of the Governor's Institute on the Arts from 1994 to 2017. Currently, he is playing in a variety of bands throughout Vermont including the Bread and Puppet Circus Band, the Zara Bode Little Big Band, the Celebration Brass Band, The Woodpeckers and Ron Kelley and the Hot Noodles.
Cathy Martin, piano, studied classical music most of her life, and is a graduate of Boston Conservatory of Music. She has enjoyed playing and singing in several wedding and cover bands in the Boston area. She studied jazz piano later in her music career with the late Charlie Banacos, and is always fortunate to have a lesson with VJC Director Eugene Uman. Cathy is a Church Music Director, and also works as an accompanist for local theater and choral groups. She is happy to be in Vermont and a part of the VJC.
Wim Auer, bass, has worked professionally as a musician (now, semi-professionally) in New England since 1975. He spent a year in Cambridge, England playing with the jazz group Antares. He moved to southern Vermont in 1980 and played with well-known area bands, including The Prime Rib Band and Simba. He is a founder of Chroma Technology, where he currently develops business and production control software.
Drummer Steve Rice is the band director and music department head at Brattleboro Union High School where he has served for thirty-five years. He directs the band and jazz band. His work as an educator and leader in the arts has been honored by the Vermont Arts Council, Vermont Music Educators Association, Vermont House of Representatives, Vermont Alliance for Arts Education, and the Windham Southeast Supervisory Union. He is also active as a performing musician throughout the region, playing percussion and drum set in a variety of professional and amateur ensembles, including the Vermont Jazz Center Big Band and the Windham Philharmonic. His teachers have included Joe Hunt and Peter Tanner.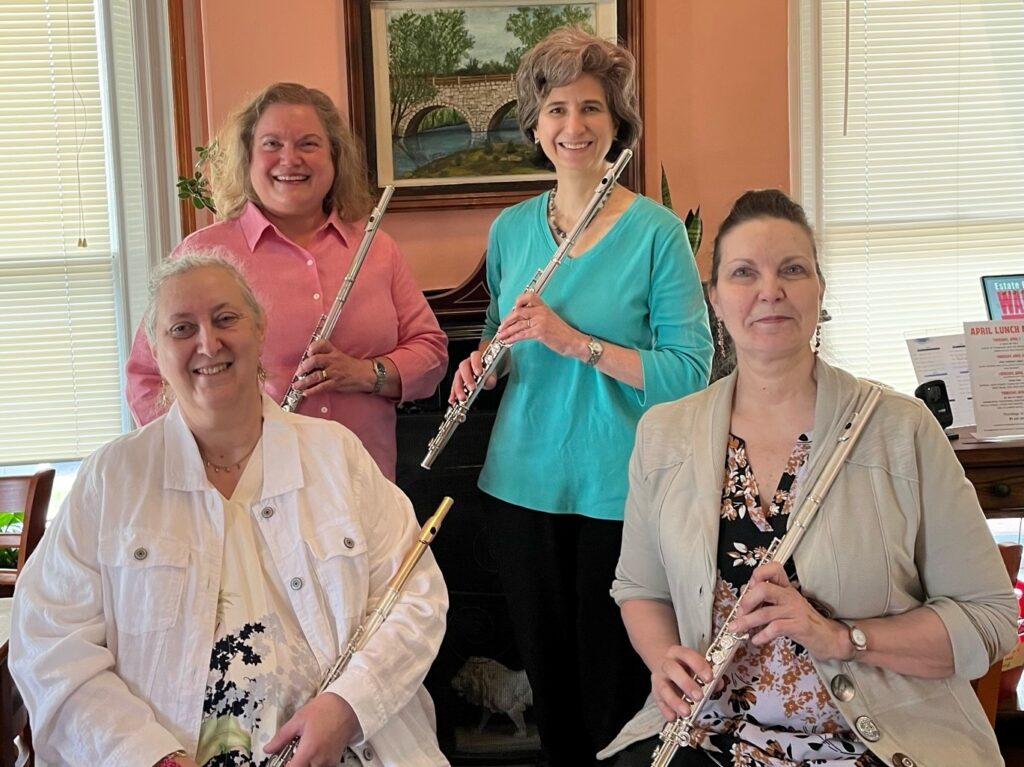 River Mill Flutes
The River Mill Flutes are named for the historic 19th century mill complex of Keene, NH, situated along the Ashuelot River, where the group rehearses. The flutists of the quartet are from the Monadnock Region of southwestern New Hampshire. The group performs on instruments of the flute family: piccolo, C flute, alto, and bass.
The Players:
Julie Armstrong
Lisa Bryan
Rebecca Sayles
Beth Anne West
The recordings from River Mill Flutes below include two pieces for three C Flutes and Alto Flute:
Rondeau by Jean Joseph Mouret (1682-1738)
Celestial Bodies by Gary Schocker (1959- )
La Femme Oboe Trio
The members of La Femme Oboe Trio, Frida Backe, Melissa Mandrell and Emily Wrubel, all started playing the oboe at 10 or 12 years of age. After playing for a decade or so, taking lessons and playing with various groups and orchestras, they each took a break from the oboe spanning a few years (Frida) to 35+ years (Emily). All three eventually found their way to the Concord Music School and began taking lessons as adults with the wonderful Stefani Burke. In 2015 Stef suggested forming an adult oboe trio and the rest is history! Regularly performing at recitals at the music school, the trio plays everything from baroque music to their signature contemporary piece, "The Happy Duck Waltz," by Tuukka Jokilehto. Although they enjoy performing, the weekly coaching session with Stef of music, collaboration and laughter is the highlight of every week.
Dinner at Martha's
All five members of the "Dinner at Martha's" woodwind quintet found their way to the semi-annual weekends hosted by AMC Boston's Mountains and Music Committee. These weekends provide an opportunity for amateur classical instrumentalists and singers to meet like-minded folks and play in an orchestra, sing in a chorus, and participate in ad hoc smaller groups. Wanting to continue playing together, Martha Beesley, Ron Dann, Betsy Ginsberg, Lisa Maxwell and Emily Wrubel formed a quintet that regularly meets at Martha's house in Andover, MA, where they eat dinner, laugh and play music.
Martha Beesley, flute
Ron Dann, Clarinet
Lisa Maxwell, French horn
Betsy Ginsberg, Bassoon
Emily Wrubel: oboe and English horn
Jeff Warner: Traditional songs and Stories
Here's a link to Jeff's website: Jeff Warner
Jeff Warner is among the nation's foremost performer/interpreters of traditional music. His songs from the lumber camps, fishing villages and mountain tops of America connect 21st century audiences with the everyday lives–and artistry–of 19th century Americans. Jeff grew up listening to the songs and stories of his father Frank Warner and the traditional singers his parents met during their folksong collecting trips through rural America. He accompanied his parents on their later field trips and is the editor of his mother's book, Traditional American Folk Songs: From the Anne and Frank Warner Collection.
Jeff has performed widely, from large festivals in the UK, to clubs, festivals and schools across America. He plays concertina, banjo, guitar and several "pocket" instruments, including bones and spoons. A resident of Portsmouth since the 1990's, he has performed widely, from large festivals in the UK, to clubs, festivals and schools across America. He plays concertina, banjo, guitar and several "pocket" instruments, including bones and spoons.
"There are three requirements of a good performance: awesome music, the sharing of knowledge, so that the audience leaves knowing something they didn't before, and the chance to laugh. You gave us all three; you nailed it!"
—Sandy Lafleur, Acoustic Café, Milford, NH
Steve Schuch: Songs of Travel
Here's a link to Steve's website: Steve Schuch
Steve Schuch began violin when he was seven and was performing professionally before college. At Oberlin College he studied music and biology and began playing the guitar and writing songs. He spent time in the Dominican Republic as a Peace Corps volunteer and his music reflects both his classical roots and folk experiences from around the world. A Steve Schuch concert inspires audiences with virtuoso violin riffs, storytelling and songs that may actual teach us something. In his own words:
Historically the arts have given us language to express the very core of our humanity. Our hopes and fears, our celebrations and mournings, our dreams and visions… these are the stuff of cave painters, playwrights and musicians across the ages. These are how we connect to each other. These are how we connect to the earth and our place in the universe.
An award winning fiddler, songwriter and book writer, Schuch's breadth of interests and mastery of his craft give a performance experience like no other.
Fortune's Favor
Mike Bradley and Chris O'Connor began collaborating about 15 years ago, as the "Bible Hill Boys." Realizing that some did not know they lived on Hillsboro's Bible Hill Road and expected a more religious repertoire, they subsequently changed their name to "Fortune's Favor." Most of their songs are original and are on a range of topics, some humorous, some romantic and many political. Occasionally they have written songs together, but most of their songs are written by one, with welcome input from the other. In addition to working on songs for Fortune's Favor, Chris hosts a songwriter's workshop at his home in Concord. Many in New Hampshire have had the pleasure of listening to Fortune's Favor at political rallies, weddings and other celebrations, including previous History Alive Weekends and, last fall, listeners to Kate McNally's Folk Show on New Hampshire Public Radio were treated to a live on-air performance of their music.
Thistlewood Harp & Guitar
JP and Pam Stohrer are well-known in the area for their performances as Thistlewood Harp and Guitar. In addition to farmers' markets and the like, they can be found playing for memorials and other private gatherings. JP has been playing the guitar for some 50 years and found his niche, not only as a musician, but as a sound engineer, as well. For the past 15 years he has been setting up his own equipment to balance and amplify bands.
Pam retired after 42 years of teaching, and is now a therapeutic harpist at medical facilities in southern NH, as well as an end-of-life doula. Pam and JP play frequently at local farmers' markets, weddings, memorial services and family gatherings.
We are so pleased to have a Pam and JP return to the History Alive stage where they will play an array of music, including Celtic as well as popular tunes known to listeners. We are also thrilled to have JP working as our "Sound Master" for all of the performers at Hillsboro Center.
The Hornists
"The Hornists" quartet first met at the Concord Community Music School (CCMS) last December and have been having fun playing a combination of classical and jazzy music. The group, led by instructor Lisa Maxwell, held their first performance virtually in February. Members Trevor Abel, Kathy McCormack and Sara Smith performed as a trio during a recital in May. All have strong connections to CCMS — Trevor has been a student of Lisa's at the CCMS for four years, Sara is a retired horn instructor there, and Kathy is in a number of ensembles, including the CCMS New Horizon Band. Lisa has been involved in many musical ensembles over the years and can also be heard at History Alive in the Dinner at Martha's Woodwind Quintet. The Hornists performance on Sat. August 20th will feature an assortment of traditional and contemporary pieces. Enjoy!
Bach Oboe and Violin Concerto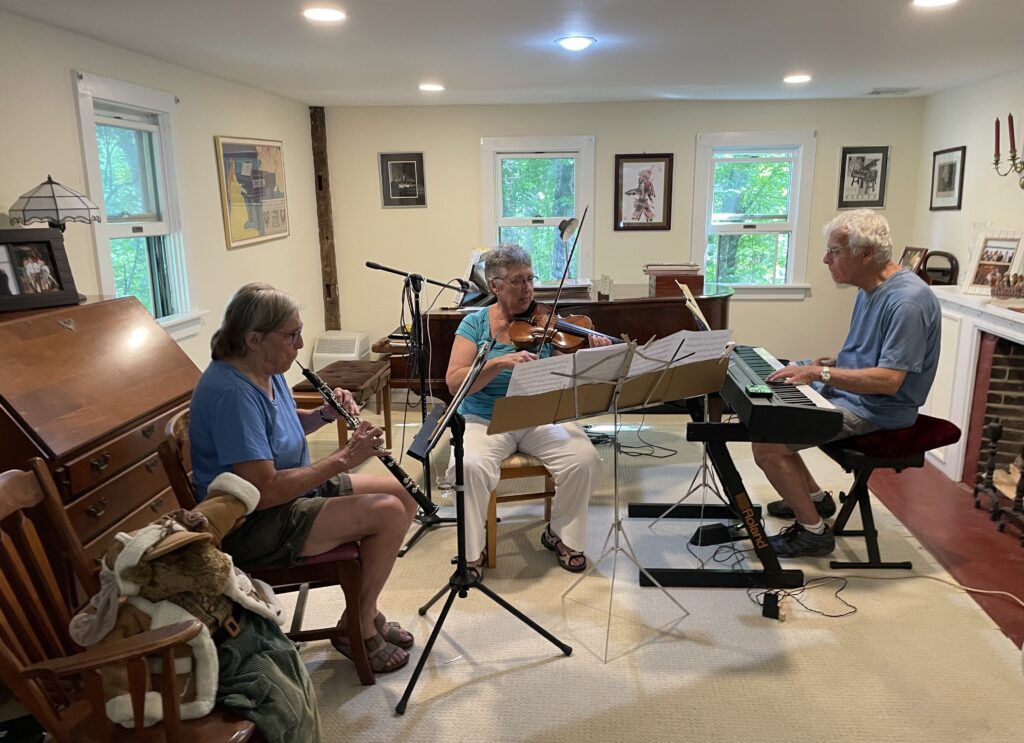 Emily Wrubel, oboe Sharon Myers, Violin Jeff Binckes, keyboard
Emily Wrubel is a retired science and math teacher and is playing with several community orchestras and amateur ensembles. She first played this concerto for a class on Bach in 1971 and is thrilled to play it again with Sharon and Jeff, both of whom split their time between Baltimore and Washington, NH.
Although Sharon Myers initially wanted to study the cello, she was convinced to take up the viola instead. She began her undergraduate studies in music at Oberlin College, but transferred and subsequently graduated from The Julliard School of Music in New York City. After 40 years of playing viola in the Baltimore Symphony Orchestra and Pro Musica Rara (the Baltimore Baroque ensemble), Sharon retired, sold her instrument and bought a violin. She considers herself a professional violist, but an amateur violinist!
Jeff Binckes began playing the piano when he was four, taught by his father. Although he pursued a degree in astrophysics at the University of Maryland, he continued to study the piano with a variety of teachers. Ultimately he ended up in the Baltimore area, where he met Sharon through her husband, Steve. Now retired from working in technical jobs, he continues to teach jazz piano, currently via Zoom, and, according to Sharon, can really rock the Russian composer, Rachmaninoff!